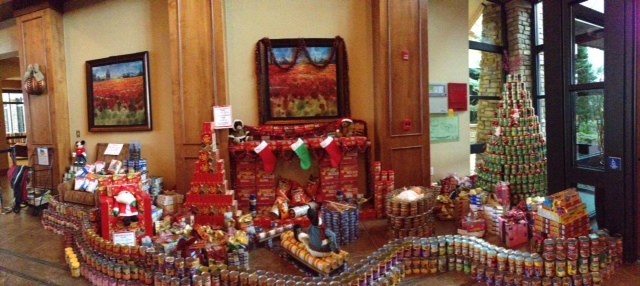 Can-Up Against Hunger

It was the Anthem Ranch pickleball club versus the community staff in November. And the winner was two Broomfield area charities.
The pickleballers challenged the staff to see who could build the most creative Christmas-themed display with canned food collected in the community's second annual Can-Up Against Hunger food drive. The pickleballers enlisted the help of other clubs and raised $3,000, with which it bought more than 3,000 cans of food. With the food cans they built a display in Aspen Lodge, the Anthem Ranch recreation center, that included a fireplace, Christmas tree and a manger.
"We got specific food based on the design we had come up with," said Char Grieshaber, pickleball club chairwoman.
The staff raised $250 and with the canned goods they purchased built a "Despicable Me" display that included the Minions of lead character Felonious Gru and his dog.
All of the canned goods were donated to the Broomfield FISH food bank and Sister Carmen Community Food Pantry.
Sue Santos, the Anthem Ranch community manager, came up with the idea of the competition as a way to encourage donations to local charities. The residents "took it farther that we thought they would," said Kelly Frost, Anthem Ranch lifestyle director.