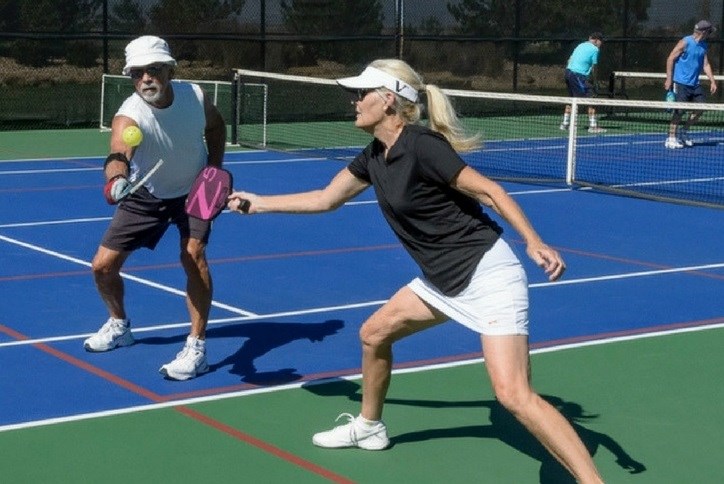 The Rise of Pickleball
One of the fastest growing sports in the country (named after a spunky dog, no less), is also one of the most popular activities at Anthem Ranch. But there's a good chance you've never heard of it. Pickleball is a racket sport that combines elements of tennis, ping pong, and badminton. It's fast-moving and competitive, but easy for beginners to learn and can be played by people of all ages and activity levels.
Pickleball was invented in 1965 by Joel Pritchard, Bill Bell, and Barney McCallum when their children got bored and needed a new game to play. The kids weren't the only fans of the game: The Pritchard's cocker spaniel, Pickles, loved chasing after the game balls and the sport was named after her. It soon caught on outside the family and has been growing ever since.
At Anthem Ranch, more than 200 members of the Pickleball Club champion the sport, leading to the recent conversion of four tennis courts into eight pickleball courts. But it's not just Ranch residents who have joined in on the fun. Fans say it's a great multi-generational activity and with many families spanning Anthem Ranch and the Highlands, pickleball brings them together.
With its smaller court—about a third the size of a tennis court—pickleball requires less running, making it easier on joints and a popular choice among former tennis and racquetball players. Like tennis, it can also be played as singles or doubles, appealing to the competitive and social alike.
In 2014, residents and guests gathered to play in the Anthem Pickleball Open. Mixed doubles teams duked it out on the courts for bragging rights and medals for every skill level. The competition was fierce but friendly and rivals returned to neighbors at a celebratory barbeque afterward.
With the rising popularity of the sport across the country, Anthem Ranch residents are proud to be on the front line of the fun. And as word spreads about this unique sport, the club is sure to grow even more.

To see pictures, click here.