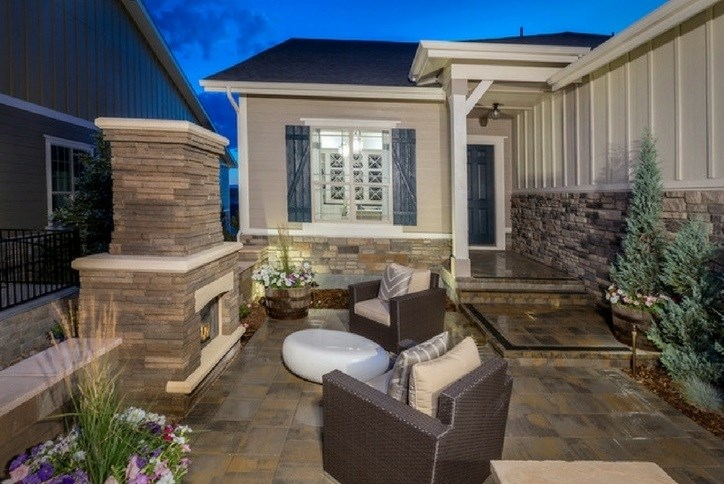 Embrace Natural Beauty
With miles of trails and beautiful parks, exquisite views are one of the pillars of Anthem living. Long afternoons spent strolling through nature characterize our community's lifestyle – but you can bring the beauty of the outdoors home with you too. Between having your own outdoor spaces and bringing the outdoors inside, you can spend hours of your day around nature without leaving your home.
Perfecting your own outdoor spaces is one of the first steps you can take to embrace the beauty around you in Anthem. The options for outdoor spaces are endless. Take a look at your family's needs, wants and lifestyle – they'll give you clues as to what the best space to create might be. What works for one family may not work for another, but that's the beauty of it – it's entirely up to you.
Perhaps your family loves to cozy up by a warm fire on cool evenings talking about the day and roasting marshmallows – then a fire pit could be the perfect addition. If lying down and tracing the constellations on a clear night might be more up your alley, designing an area with comfortable seating and open spaces could be the best option. Pools are a great addition for any active family that loves to spend hours in the summer sunshine.
Of course it isn't all about the activities – sometimes, especially in Anthem, it's about the view. When your backyard opens up to the mountains and skyways of the Rockies, you're going to want to accent it. If there is a particularly beautiful feature within your view, you could arrange your outdoor furniture so as to see it from the perfect angle. The options truly are as limitless as your imagination.
Beyond the outdoor spaces, there are a multitude of things you can do to bring the outdoors inside. Similar to arranging your outdoor furniture to frame something breathtaking, you can do the same with any furniture near a window with a particularly great view.
If you truly want to bridge the gap between outside and inside, consider bringing in natural elements. If you have a garden, bring in fresh cut flowers in the spring time and fill your home with other plants throughout the rest of the year. Choosing art pieces and photography that reflect nature can also add depth to your decorating.
The design style of authenticity is a natural fit for bringing the outside in. Characterized by natural, unfinished material, you can use this style anywhere in your home. Natural wood and brick elements typically make up the foundation of authenticity, but you can always customize it any way you please. This style can work particularly well in bathrooms and kitchens.
Of course there's always the option of indoor-outdoor spaces. A hearth room or Colorado room with comfortable sitting areas for lazy afternoons might be perfect for the book-lover. Patios with retractable ceilings and screened in porches can give you a space to enjoy the outdoors year round.
If you love the outdoors, you have boundless choices to make a space that works for you – from something as small as a few flowers on the table to an expansive patio with a fire pit and lounge spaces. At Anthem, the outdoors are an essential part of life, and you can embrace them any way you choose.