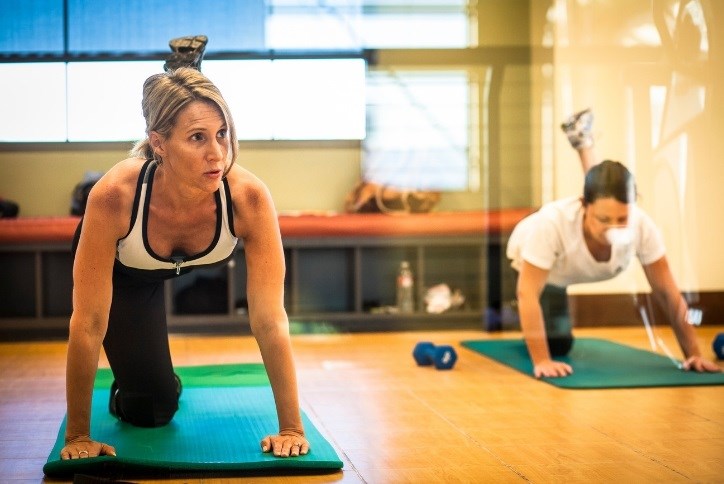 Get Your Om On at Anthem
Mindfulness has become the latest watchword in the pursuit of a better life, and for good reason! Although it's usually associated with meditation, you can benefit from the practice even if you're not a dedicated yogi. Research has shown that exercising mindfulness can lower stress levels, leading to better health, weight-loss, decreased depression risk, and improved productivity.
Very simply, mindfulness means focusing your mental awareness on the present moment. But if you've ever been browsing social media on your phone only to realize hours had passed without noticing, you know it's not quite that easy. With the constant distraction of technology—not to mention wandering thoughts and a never-ending to-do list—staying mentally present can be a real challenge. Luckily, it's easy to exercise your mindfulness muscles in Anthem and with these tips you'll feel more Zen before you can say omm.
Digitally Detox
One of the biggest barriers to staying mindful is the constant lure of technology. There's always a new trend on social media, an app to download or a must-see show. But this entertainment often leaves feeling drained and distracted. Take the first step towards finding your Zen by limiting these distractions. Set aside time each day to unplug. Start with a short burst and work your way up to longer time periods until the siren song of your smartphone begins to fade.
Embrace Nature
With Anthem's incredible views of the Rockies, 48 miles of trails, and vast open spaces, nature is as much a part of the community as the Parkside Center. Step outside and dedicate your mind to observing your surroundings. Watch the wind ripple the surface of a pond. See if you can name each of the Front Range peaks in view (without checking Google). Or simply walk without an agenda. When your mind wanders to your to-do list, look up at the mountains and marvel.
Take a Yoga Class
If you need to a Zen booster shot, take a yoga class at the Parkside Center or Aspen Lodge. Teachers will guide you through the movements, helping you focus your mind through breathing and observing your body's natural reactions. Gather a group to make it a regular occasion and you're even more likely to stick to it. With different levels and styles of classes, you're sure to find one that helps you find your mental oasis.
Move Your Meditation
There are dozens of website, classes, and apps that can teach you how to meditate, most of which will have you sitting or lying down, focusing your mind. But if your mind takes the stillness as a cue to wander, try a different approach: walking meditation. Long practiced by Zen masters and their students, walking meditation is a simple go-anywhere way to practice mindfulness. Stroll along the trails of Anthem while focusing on your steps. Feel the ground under your feet. Take a deep breath of fresh air. The easy, steady motion rocks your mind to a place of peace, leaving you feeling more relaxed and stress-free.
With mountain views, open spaces, and beautiful natural features, simply living in Anthem can make you more aware of the present moment. A walk on the trails, a peek at the horizon, a breath of fresh air are little moments of meditation throughout your day. If you're looking for your lost Zen, it might just be waiting for you in Anthem.
Want More Information?
Please click below to contact our team and we will be happy to answer any questions you have!
Contact Us