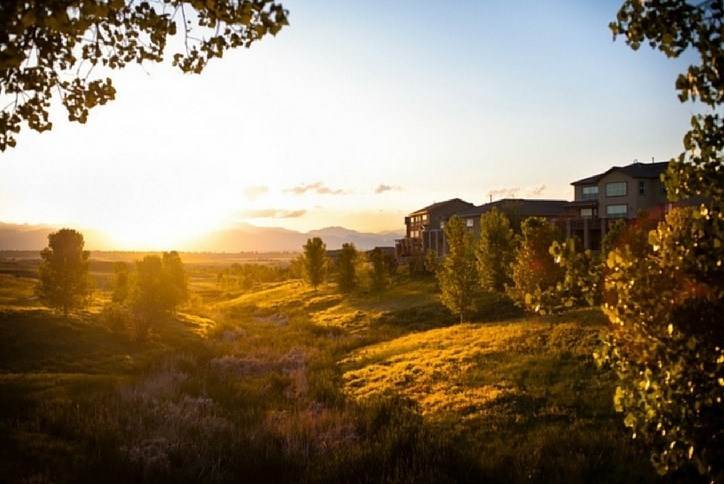 Discover Peak Beauty
One of Anthem's most distinctive features is its stunning Rocky Mountain views. From nearly anywhere in the community you can see the distinctive peaks of the Front Range stretch across the horizon. Collectively, they're a natural wonder that draws visitors from all over the world. But each peak is distinct, with its own features and story.
The Front Range stretches from Casper in southern Wyoming to Pueblo central Colorado. It contains the highest peaks on the eastern edge of the Rockies, including six fourteeners—a peak with an elevation between 14,000 and 15,000 feet. And dotted along its spine are the formations that make up the arresting view you'll see from Anthem.
Grays Peak
Grays Peak is the tallest summit in the Front Range and the ninth highest in Colorado. One of six fourteeners, it tops out at 14,278 feet. Rated a Class 1 hike with a well-marked trail, it's a good peak to choose if you're working on your first fourteener. It was named after Asa Gray by fellow botanist Charles C. Perry who made the first summit in 1861. And of course, it offers stunning views. Along with its nearby twin, Torrey's Peak, it can be seen in the distance to the south.
Torreys Peak
Often hiked on the same day as its nearby twin, Grays Peak, Torrey's Peak is located a half-mile north. Rated a Class 2, it's a good step up from Grays. There's a variety of trails to choose from so you can tackle it multiple times without getting bored. If you're feeling particularly motivated, summit Grays in the mountain and then hike down to where the two meet and make your way up Torreys in the afternoon.
Longs Peak
Striking a prominent silhouette near the center of Anthem's stunning view is Longs Peak. With a cap of snow nearly year-round, Longs is easy to pick out on the horizon and its allure is understandable. But if you're looking for a beginner hike, Longs is not your best bet. Less than half of hikers who attempt to summit this peak are successful. So if you're feeling ambitious, work your way up to this challenging hike. In the meantime, enjoy its staggering beauty from the comfort of Anthem's trails and parks.
Mount Evans
Just south of the twins Grays Peak and Torreys Peak, you'll find Mount Evans. Dominating the skyline, this peak can be seen for up to one hundred miles away. With trails ranging from Class 1 up to 4, it's a popular fourteener for beginners and experts alike due to its proximity to Denver. But if you're not feeling up to hiking Mount Evans, you can enjoy the incredible views from the Mount Evans Scenic Byway. The highest paved road in North America will take you a staggering 14,130 feet giving you a view of the whole Front Range and beautiful Summit Lake.
Flatirons
Unlike the previous peaks, you won't find the Flatirons on a list of fourteeners. But the view from Anthem just wouldn't be the same without them. A distinct feature of Boulder, the Flatirons form a section of Green's Mountain. The five numbered peaks jut into the sky like upturned clothes irons, which is how they got their name. They're a popular destination for hikers and rock climbers. You'll also find The Colorado Chautauqua National Historic Landmark: a venue for concerts, lectures, events and more.
You don't need to be able to name each peak on the Front Range to enjoy the view from Anthem, but knowing their stories makes the beauty that much sweeter.
Want More Information?
Please click below to contact our team and we will be happy to answer any questions you have!
Contact Us