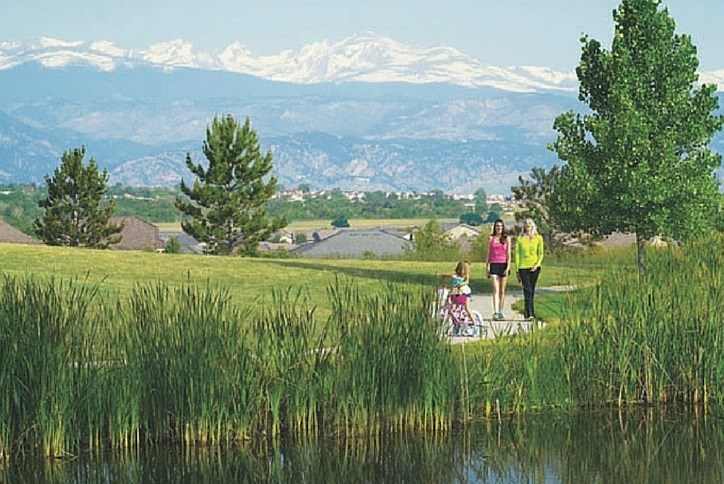 Step Your Way Healthy in Anthem
You've probably heard by now that 10,000 steps a day is the magic metric for achieving and maintaining overall health. Clocking in at around 5 miles or 30 minutes of daily exercise each day, 10,000 steps meets the recommendations of the CDC, American Heart Association, and Surgeon General for fitness and has been backed up by several research studies. But none of that helps you if the idea of walking that many steps is less exciting than a root canal. Luckily, Anthem offers plenty of ways to hit your daily step goal without being bored to tears. So strap on your pedometer and step into health.
Walk the Trails
With 48 miles of trails throughout the community, there's plenty of room for you to reach 10,000 steps just by walking in the neighborhood. Keep things fun and interesting by changing up your route so that you take in different views each day. Bring your dog along to keep you company or make it a family affair by getting the family together for an after-dinner stroll. Or collect a group of friends and neighbors for a daily walking group. You'll spend so much time chatting and catching up, you'll barely notice the miles roll by.
Think Outside the Step
Reaching a step goal doesn't mean walking or running are your only options. Any activity that gets you moving can count toward your goal. Join a pick-up basketball game or hit the tennis courts and in less than an hour, you'll play your way to 10,000 steps. Dancing is also a fun, easy way to hit your goal. Whether you join the Boot Scooters line dancing club at Anthem Ranch, or simply put on your favorite tunes in your living room, what could be more fun than dancing your way to fitness?
Hit the Gym
Even at Anthem, there are some rainy days. When you can't get outside for your daily walk or tennis match, you can still get your steps in. Head over to Aspen Lodge or the Parkside Center, set yourself up with your favorite book, magazine, or TV show and let the steps roll by on the treadmill or elliptical. If you have a regular walking group, create a backup plan for rainy days so everyone knows when and where to meet.
Location, Location, Location
With some of the best hiking in the country on Anthem's doorstep, you'll never be bored when getting your steps in. Planning a weekend hike with friends and family will actually have you looking forward to working on your step goal. If you're feeling more ambitious than just 10,000 steps, train to tackle a 14er or concur every peak you can see from your backyard.
Take it Easy
While 10,000 steps has become the gold standard for daily fitness, it's not right for everyone. If you're just starting a fitness routine or are rehabbing an injury, work your way up to it. Start with a few laps around the Aspen Lodge indoor walking track or a stroll down the block. For joints that need extra care, substitute steps for laps in the pool. Thirty minutes to an hour of front crawl has similar benefits.
With everything that Anthem has to offer, you can easily reach your health goals and never be bored with your options.