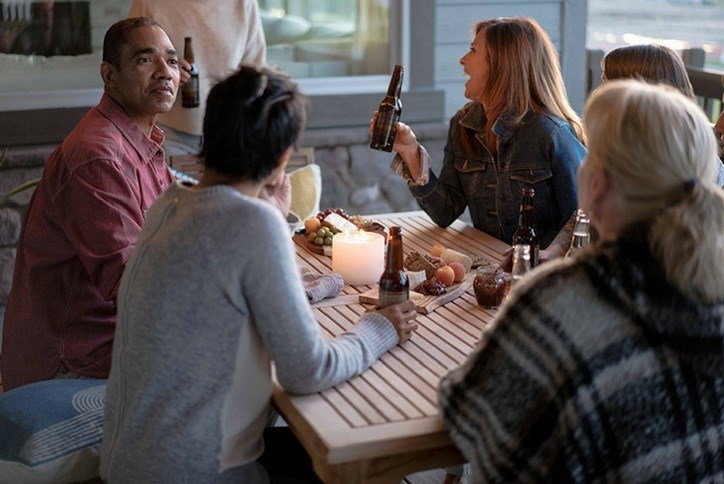 Outdoor Entertaining Anthem-Style
While summer is winding down, the warm Colorado weather remains prime for entertaining outdoors. Anthem's thoughtfully designed homes paired with stunning mountain views make it the ideal location for dining al fresco.
Invite your friends or family to your Anthem home. What to serve? For a quick and easy charcuterie board, check out the Epicurious article, "How to Build a Charcuterie Board Like a Pro." It includes tips from Elias Cairo, owner/salumist at Portland's Olympia Provisions, including:
Lay out two ounces of meat per person, unless you're hosting a cocktail party, in which case you should plan to use five ounces per person.
Slice salami cold the thickness of a quarter on the bias, and serve it at room temperature. The package should say if you need to remove the casing. If you're serving ham, slice it as thin as possible.
Include a soft side like pâté for varied, delightful textures.
Add garnishes and condiments, making sure you include plenty of crunch. Consider pistachios, pickles, and a fennel salad with lemon and oil. Make sure you don't forget crowd-favorite olives, and condiments that pair well with your meat, like mustard for sausage.
Mix up your cheese textures, ensuring you have both hard and soft options.
Skip the crackers. Instead, opt for baguettes on the side.
Finally, drizzle olive oil, and put black pepper and crunchy salt on the pâtés and spreadables
If you're interested in mixing it up a little, try a new recipe like Pappardelle with Arugula and Prosciutto, Watermelon and Prosciutto with Mint and Toasted Almonds, or Bresaola and Cheddar Toast.
Many of the homes offered at Anthem are designed to flow seamlessly from the indoors to the outdoors, making long, warm summer evenings the perfect time to sit back, relax, and enjoy one another's company. One such home, CalAtlantic Residence 5C05, features an indoor-outdoor connection off the main gathering area of the home. The kitchen, dining, and great room open to an expansive deck overlooking sweeping view of the Front Range. And, when the weather starts to become a bit cooler, you'll want warm up by the cozy outdoor fireplace.
The Montana by Toll Brothers, is designed with a spacious covered deck, which is accessible from both the great room and the dining room, offering seamless year-round outdoor entertaining.
Explore our homefinder to learn about available residences that feature fantastic outdoor entertaining spaces.