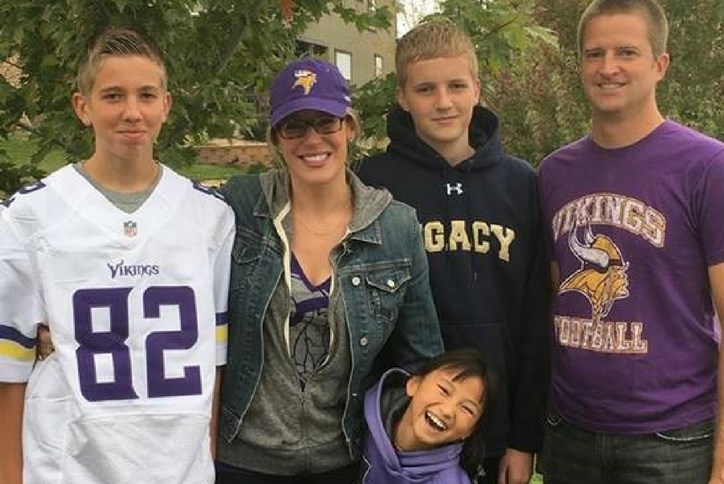 Resident Highlight: Thawing out at Anthem
Six years ago, Katherine Erstad and family moved to Colorado from South Dakota. Why? Because "it has all the things we like, but it's not frozen nine months of the year," she laughs. Why Anthem specifically? Because it has the close-knit feel of the small town they left behind.
For the Erstads, like so many transplants, the move was inspired by visits to Colorado relatives. The family adored the weather and endless outdoor activities. However, there were a few things they loved equally about Brookings, their town of 20,000. It was a friendly kind of place where everyone knew everyone—going back generations. The Erstads also loved South Dakota's wide-open plains. How would they adapt to a large metropolitan area like Denver?
Thankfully, serendipity stepped in. One day, Katherine and husband Rol were furniture shopping in Ft. Collins—where they were thinking of buying a home—and overheard a woman talking about a terrific rec center in Broomfield. With three active children, their attention was piqued. In no time, Katherine and Rol toured Anthem Highlands, checked out the Parkside Community Center and were hooked. "When we saw the rec center, we knew our kids would love it. And that it would be the heart of the community, bringing everyone together," says Katherine. This has proven true. In the Erstads' case, teenagers Sam, Jack and Eloise often meet friends at the pool, lift weights or play basketball together.
The Parkside Community Center been a great source of adult friendships, too. Katherine met her core group of friends at morning fitness classes. This winter found her snowshoeing with one of the first women she met there six years ago. "There are just so many opportunities to do things with friends here," Katherine says. Living close to the mountains makes skiing and hiking readily available, but everyday outdoorsiness is even closer. Anthem offers bigger yards than the other communities they toured, and it has an abundance of the wide-open spaces she craved. Katherine often finds herself on Anthem's trails, soaking up the "perfect mountain views and beautiful landscaping." The trails also allow her daughter to safely walk or ride her scooter to school.
It turns out that Anthem works out well for grandparents, too. After visiting the Erstads in their new home, Katherine's mom and stepdad moved from Minnesota to the community's 55+ neighborhood, Anthem Ranch. Funny enough, the clincher for them was almost identical: Aspen Lodge, Anthem Ranch's community center, where they instantly fell in love with the lap pool, fitness classes and friendly gatherings. In fact, the social whirl keeps them so busy that Katherine says, "I can't wait to retire, it looks like so much fun!"
So, Midwesterners, make the switch to Anthem. You'll get all the warmth—literally and figuratively—that you've been craving.