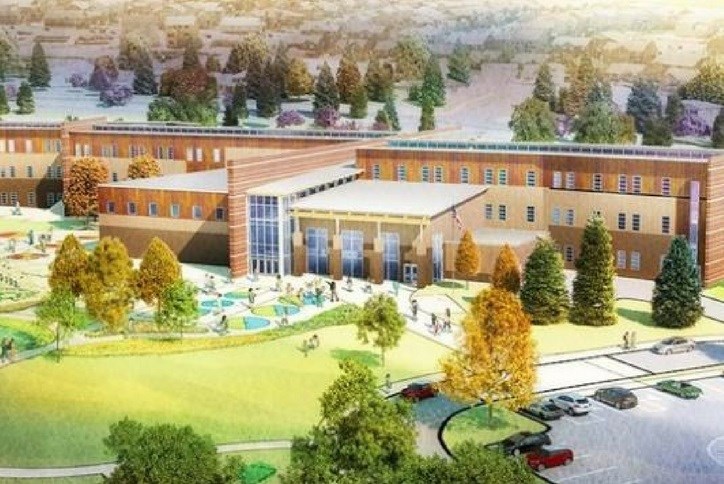 Thunder Vista P-8 is now open. Peek inside with Principal Benallo.
Anthem's new P-8 has now opened its shiny new doors for classes in August 2018. The Adams 12 district school will serve approximately 1,000 students ranging from preschoolers through eighth-graders. It is the first Denver Metro school certified under the Collaborative High Performance Schools (CHPS). Which means Thunder Vista itself is designed to enhance learning, protect the health of staff and students and reduce energy consumption.
The school's principal, Teresa Benallo, has been happily at the helm since March 2017. That's when she was selected after a rigorous, month-long process involving input from parents, community members and district staff. There's no question that Benallo understands the Adams 12 Five Star community. Her own children choiced into the school district, and she served the last four of her 20+ years in education as the principal of Leroy Elementary. But building a school from the ground up (literally) makes it possible to do something, well, groundbreaking in an already acclaimed school district.
"At Thunder Vista, we have the rare opportunity to forge our own identity," says Benallo. "We can build on the traditions that we know work well, but also create wonderful new ones for our kids." With the help of collaborative community meetings and a full year to plan ("the rare gift of time," she says), Benallo is seeing an exciting school environment take shape. Thunder Vista will follow the proven curriculum of Adams 12, but Benallo is cultivating a particularly student-focused and inquiry-based learning environment. (Which research has found extremely effective.) To support this goal, she's hiring staff members especially talented in "discerning the needs of every kind of learner and meeting those needs in meaningful and engaging ways."
No less a player is the school building itself, designed with flexible spaces to enhance all kind of learning. For example, collaborative areas are sprinkled throughout. Students can study together on a "learning staircase." (See illustration below.) And in classrooms, desks aren't lined up in rigid rows; instead, kids might opt to stand at a table, sit on the floor or work on group projects in a breakout room. All of these options help support students' different learning styles.
"Inquiry-based learning is about understanding where kids are, and pointing them toward where they need to be," says Benallo. "Thunder Vista creates an environment that recognizes how our best learning can happen when we're working together or alone, moving our bodies or staying still." Or even doing algebra in the Colorado sunshine. Natural light, indoor-outdoor connections and outdoor classrooms are other ways Thunder Vista accommodates diverse learning. And the school is as thoughtful of the environment as it is of its students, featuring geothermal energy and the use of environmentally responsible materials. Clearly, this is one smart school. Smart students are sure to follow.
Learn more about Thunder Vista here.