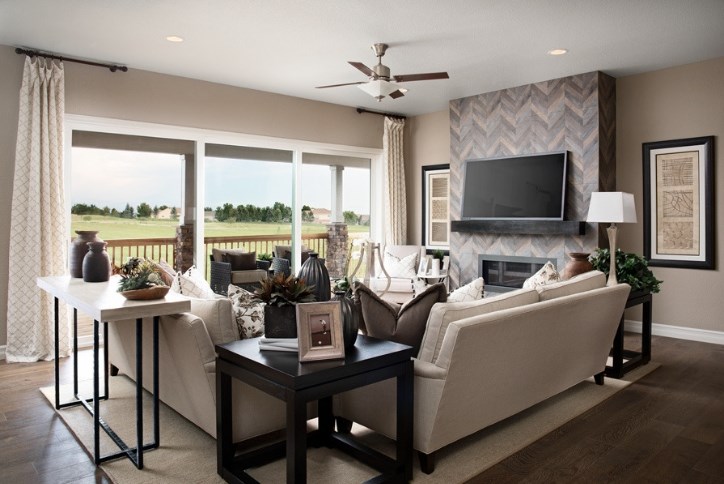 Meet Steve Cummock. He doesn't just sell Richmond American homes. He lives in one, too.
Steve has been selling for the company for four and a half years, and has been at Anthem almost as long as Richmond American has. On any given day, you'll find him greeting people, giving overviews of the community, showing buyers around models—even driving them to see move-in ready inventory. All to find them the perfect fit. Although he knows that whatever floorplan buyers choose, they'll immediately notice the Richmond difference.
A builder in Colorado for over 40 years, Richmond American has a long-term track record of building quality homes with a lot of opportunity for personalization. So you get to work with a large, national builder, but still choose your finishes and some architectural details.
We asked Steve to tell us what he loves about the four Richmond American models in Anthem Highlands. Here's what he said:
The Arlington starts out at a lower price point, so there's lots of ability to upgrade. The most popular add-on being, literally, an add-on: a huge deck that spans the entire back of the house, with walls of glass doors that open completely for a truly indoor/outdoor experience. And right now, a finished basement is included in the base price.
The Skylar is a two-story popular with families, with a mudroom off the garage, 3 bedrooms upstairs with a loft, and an oversized 2-car garage for plenty of storage. There's also the option to add a sunroom off the kitchen, which provides a perfect semi-formal dining area, and allows for a bigger island and extra cabinets.
The Daniel is one of the most popular models in all of Colorado … and for good reason. The 10-foot ceilings make it feel big and open. And the layout is a winner with empty nesters, because the primary bedroom is separate from the other bedrooms, which are located in their own little "wing".
Last, there's The Dayton, the biggest and most popular model. Bigger families love this model because it starts with five bedrooms, and goes up from there. (Yep, you can have seven bedrooms if you want!) And here's the best part: all five of the bedrooms have their own attached bathroom.
Steve also told us that Richmond's location in the community is pretty amazing, with many homes featuring stunning mountain views and more situated within easy walking distance to the Parkside Community Center and Thunder Vista, the brand-new P-8 school—which happens to be Denver's only high-performance collaborative school.
We could have listened to Steve talk about the Richmond American homes all day. But, you know, he had to go help buyers find their dream home and navigate the building process (which, coincidentally, are his favorite parts of the job). But before our conversation was over, Steve did tell us that he used to be a personal trainer.
So we think he'll be able to find you a home that will work out. (Sorry, couldn't resist.)
Stop by and meet Steve at our Richmond American sales center. And if you want to ask him about some fitness tips, we're sure he'd be fine with that, too.