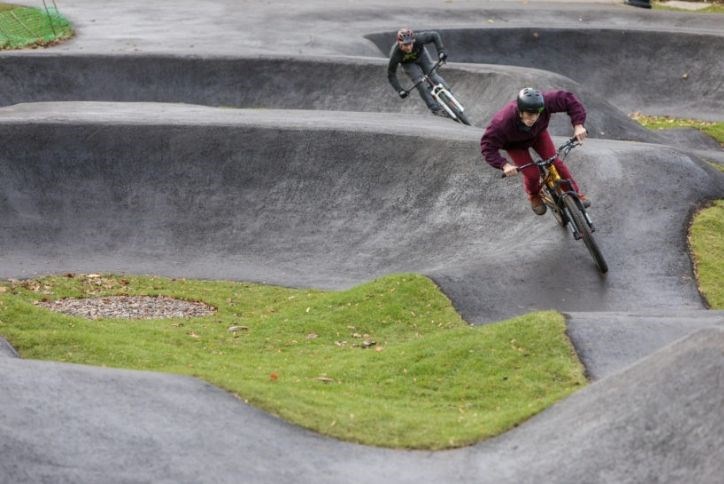 Got pump track? The latest bike craze is coming to Anthem.
From toddlers to professional cyclists, this activity will get everyone outside and moving. Opening next summer, Anthem's pump track lets bikers cruise over 20mph—without a bit of pedaling.
Who knew you could bike without pedaling? No, not with the help of a motor, but from the momentum of legs and arms pumping up and down along tight turns on a specially formed track.
That's the premise of pump tracks, looping trail systems that can be ridden by cyclists of all ages and skill levels. In fact, you don't even need a special kind of bike. BMX bikes, mountain bikes, kids' bikes, even scooters and skateboards work just fine. Pump tracks are the next big thing in mountain biking and one will open next summer in Anthem.
The track, a continuous loop of berms, mounds and crisscrossing interconnected lines, is the creation of Velosolutions of Switzerland, the leading industry expert in pump tracks. Well-practiced riders will be able to complete a lap in less than 30 seconds at speeds of up to 20 mph. Anthem's track will host annual competitions (which should be super fun to watch) and will be open daily for all to enjoy.
As the nation's second biggest pump track, Anthem's newest amenity is already receiving international attention.
Next summer will be here before you know it. Until then, stay tuned for updates. And keep on biking along Anthem's 48 miles of trails.