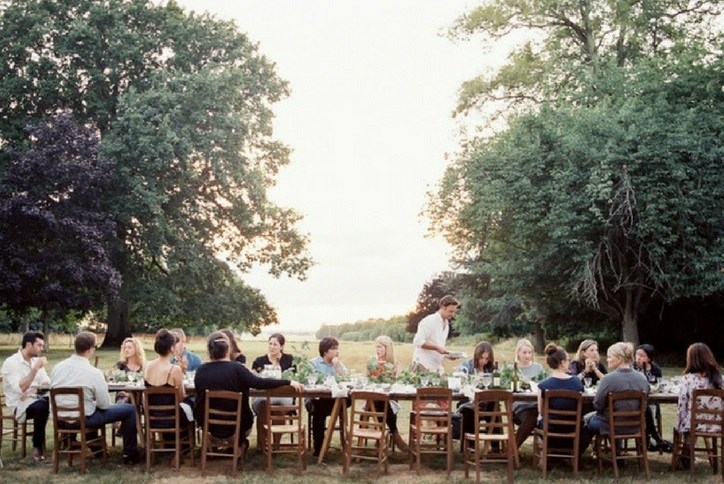 Top 5 Farm Dinners Near Anthem
Farm-to-table takes on a whole new meaning when the table is at the farm. Feast al fresco on dishes made from organic produce picked at the height of freshness -- with dramatic mountain peaks as your backdrop. These five farms host on-site outdoor dinners from June to October, so you can go to a new one every month all summer long and into the fall. Take a seat at the table, meet new like-minded foodies, and enjoy your meal -- and your view.
Isabelle Farm
Lafayette, CO
10 minutes from Anthem
Isabelle Farm is owned and operated by Jason and Natalie Condon, who both come from farming stock. In fact, Jason's family has been farming locally since 1859. Isabelle partners with chefs from local restaurants to put on a few farm dinners every summer, and in the fall, they host a fish-to-farm dinner on their barn's veranda featuring dishes made by a chef from Jax Fish House Boulder. With majestic views of the Rockies and fresh produce from their 80 acres of farmland, farm dinners here are special events indeed.
Three Leaf Farm
Lafayette, CO
10 minutes from Anthem
The owners of Three Leaf, Lenny and Sara Martinelli, also run seven restaurants in the Boulder area. From June to October, their chefs show off their stuff -- and the bounty of the farm's organic fruits and veggies -- at the farm's monthly meals. Each farm dinner is themed, such as September's annual tomato explosion dinner, and the setting along Coal Creek with views of the Continental Divide is stunning.
Ollin Farms
Longmont, CO
20 minutes from Anthem
At this family farm, farm dinners are held on a handful of summer Saturday nights and accompanied by local musicians. You go down a dirt path to get to your table, set alongside the cottonwoods lining Left Hand Creek, and dig into a four-course meal prepared by a chef from nearby Niwot Market. Dinners always offer a vegetarian option and are BYOB, making Ollin's farm dinners the most affordable of the lot.
Lone Hawk Farm
Longmont, CO
35 minutes from Anthem
At Lone Hawk, produce and flowers are sold on the honor system -- prices are posted on a blackboard, and you leave payment in a little red box -- and grown with the help of solar electric tractors. Held from July to September, farm dinners here promise impressive fare prepared by local chefs and caterers and an idyllic setting amid trees that rustle in the evening breeze. Views of the Front Range and neighboring countryside are a given, but you may also spy a peacock wandering around the sprawling barn that acts as the property's centerpiece.
Lyons Farmette
Lyons, CO
36 minutes from Anthem
Lyons Farmette's founders Betsy and Mike partner with well-known chefs from the area to put on more than a dozen farm dinners every summer, including an annual hog roast every July. Held in a grassy area bordering a stream, the dinners highlight the organic produce harvested from the single acre of the farmette devoted to crops; Betsy and Mike also grow flowers and raise goats, alpacas, chickens and a llama on the farm. Wine and beer sales at the dinners benefit local nonprofits such as Growing Gardens, an organization that facilitates urban community gardens.